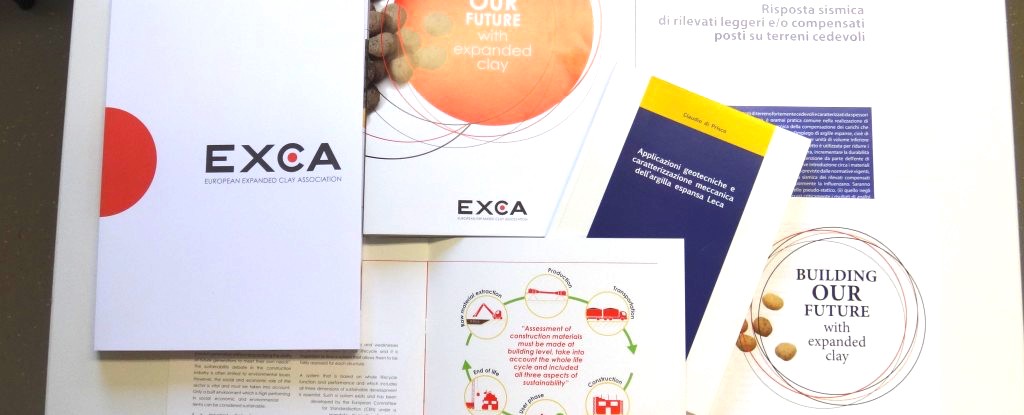 DOWNLOADS - Brochures
Expanded clay is a durable, natural material that is used in a wide range of applications, from lightweight structural concrete, to masonry blocks, road and railway embankments, insulation in buildings and infrastructure, as well as growing media for fl owers and plants. It has excellent thermal, acoustic and fi re-resistant properties, is long-lasting and endlessly reusable and recyclable. Many of its characteristics make it ideally suited to the circular economy, including:

- sustainable sourcing
- lightness
- durability
- reuse and recyclability

Building our future with expanded clay – EXCA sustainability brochure Read more +

The European expanded clay industry has embraced the principles of sustainable development. Expanded clay is a well-proven, high quality, efficient and competitive construction material that can be used anywhere. It is sustainable and packed with properties that improve the economic, social and environmental performance of a building or infrastructure over its whole lifetime. Expanded clay is produced with the maximum care for employees, environment, climate, neighbours and local communities. The industry is committed to continuously reduce the impact from the production and to develop the properties and applications of expanded clay to improve the sustainability contribution.

Expanded clay, an unique lightweight aggregate with versatile applications. The only "all in one" aggregate with sustainable use "everywhere". Due to its unique characteristics, expanded clay has broad range of applications "everywhere", like in the housing, infrastructure and green projects. For each of the applications expanded clay will bring a number of benefits as illustrated in this brochure.