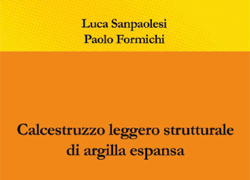 Calcestruzzo leggero strutturale di argilla espansa (IT)
LIGHTWEIGHT AGGREGATE CONCRETE WITH EXPANDED CLAY
This technical handbook is intended to provide the tools for lightweight aggregate concrete in accordance with the current national and European regulations (D.M. 14/1/2008, CIRCOLARE n°617 – 2009, EC2).
The technical handbook is divided into two parts:
– LWAC Guidelines for Materials, Technologies and Design Criteria;
– Examples of some applications in the use of LWAC (RC beam, strengthening of existing floor slabs), as well as various indications regarding concrete mix design and executive aspects.
The text is primarily addressed to designers by providing them all the elements needed for design, highlighting only differences in the use and characteristics of ordinary concrete.